The First Canadian Helicopter Circumnavigation of the World
C150 Global Odyssey ("C150GO") was the first Canadian helicopter circumnavigation of the globe — and the first ever father/son helicopter circumnavigation.
As Departing on July 1 of 2017 to celebrate Canada 150 — 150th anniversary of Canadian confederation — the Canadian circumnavigators flew a Canadian-made Bell 429 helicopter around the world, visiting every Canadian province and territory — as well as landmarks celebrating remarkable achievements and events from Canada's rich history.
Along the way C150GO was joined by notable Canadians such as Dave Williams, Guy Lafleur, Peter Bregg, HCol Gerald Haddon, and Bronwen Evans. The trip also proudly raised money for Southlake Foundation and True Patriot Love Foundation.
The team was truly honoured to represent Canadian innovation and adventure as they journeyed across the country and around the world, celebrating 150 years of Canada's amazing history — and looking forward with pride and optimism to the next 150.
C150 Global Odyssey Statistics
| | |
| --- | --- |
| Aircraft | Bell 429 Canadian-Made Helicopter |
| Crew | 3 Canadian Pilots |
| Departure | July 1 (Canada Day) 2017 |
| Duration | 30 Flying Days over 48 Calendar Days |
| Distance | 36,956 km · 22,963 mi · 19,955 nm |
| Routing | 92 Stops in 14 Countries |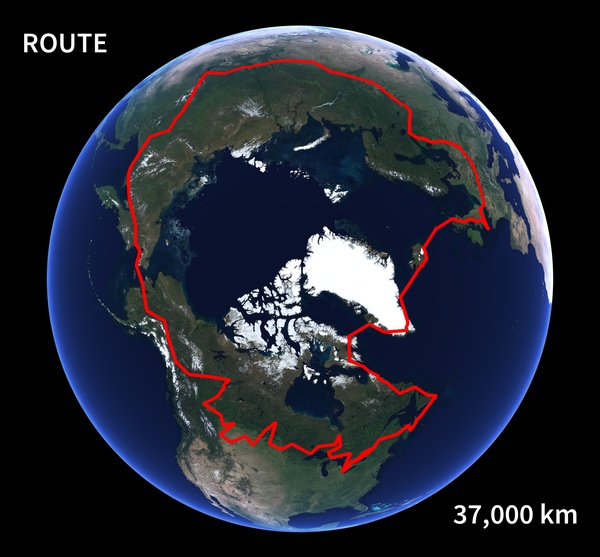 C150GO Crew
Bob Dengler
Pilot and Circumnavigator
Aurora, Ontario
Founder of Dynatec Mining in 1980, Bob is a recognized pioneer of the modern Canadian mining industry. Bob has flown helicopters for over a decade.
Steven Dengler
Pilot and Circumnavigator
King City, Ontario
Co-Founder of XE.com in 1993, Steven is a renowned entrepreneur, innovator, producer, and investor. Steven is rated on both fixed wing airplanes and helicopters.
Dugal MacDuff
Pilot and Circumnavigator
Montréal, Québec
A test pilot for the Bell 429, Rob is an acclaimed helicopter professional with decades of experience. Rob has flown all over the world, and even served as pilot to Jacques Cousteau on the Calypso.
Wawa the Canada Goose
Mascot and Circumnavigator
Wawa, Ontario
Named after the Ojibwe word for Canada Goose, Wawa sought out souvenir pins wherever she went, returning home with an amazing collection from all over the word.
Peter Bregg
Mission Photographer
Toronto, Ontario
Internationally renowned photojournalist Peter Bregg C.M. brought his formidable photographic talent and knowledge to C150GO, travelling on 47 of the trip's 92 legs.
Sergey Komarov
Russian Navigator
Moscow, Russian Federation
ATC professional Sergey Komarov came aboard in Warsaw to act as Navigator and Communicator during C150GO's journey through Russia.
C150GO Special Guests
HCol Gerald Haddon
Oakville, Ontario
Gerald is the grandson of The Honourable J. A. D. McCurdy's first pilot — and the man who made the first flight in the British Empire in February, 1909. Gerald joined C150GO for the first two days.
Guy Lafleur
Montréal, Québec
Hockey legend Guy Lafleur O.C. is widely recognized as one of the greatest hockey players of all time. Guy is also an outstanding helicopter pilot, and joined C150GO for the first two days.
Dr. Dave Williams
Oakville, Ontario
Dr. Dave Williams O.C. is a physician and a retired CSA astronaut, flying on STS-90, STS-118, and the International Space Station. He flew with C150GO on Canada Day of 2017.
C150 Global Odyssey Links
Inquiries:
Copyright © 2017-2018 C150 Global Odyssey